---
Gallery 1

The snake serves the glass


Mater's Iguazu

Mater's Acqua

Mater's Until one day you no longer think you're important

B pastel

Carps

Pisces 13


Bromelia Guzmania

Bromelia Aechmea Fasciata

Bromelia Tillandsia

Primitive

Mater Arrows 12

Mater Arrows 11

Margin Mural

Mater's Of honey and milk II

Mater's 7


Mater's Sulphur S 16

Mater's Diameter

Mater's Chiao

Mater's Shen

Mater's T

Mater 8

Mater 9


Mater 10

Abre o mundo 3

Mangrove Swamp Shrouds A

Open the World 1D


Mater's Chiao


Igneous arrows - Tiles


Footprint
2019
Sela Tintas de terra brand, commercial launch at Letraria bookstore, Florianópolis, SC
Seja água 70% (Be 70% water). at Floripa Conecta SC
2016
2014-Mater's, 2011-Abre o Mundo, MAB, Blumenau Museum of Art, Blumenau, Santa Catarina state
2015
SAV - Visual Arts Picture Gallery of Vinhedo, São Paulo state, and catalog
2014
Individual exhibition at MAB - Museu de Arte de Blumenau, SC
2013
Individual exhibition at Cultural de Indaial, SC
2011
Individual exhibition at MECA - Museu Etnográfico Casa dos Açores -, Biguaçu, SC
Workshop with Leda Catunda, at Museu Victor Meirelles
2010
Individual exhibition at MAB - Museu de Arte de Blumenau
MESC Faed Museum - presentation of the research 'Natural Pigments '
II UFSC Indian Exhibition - Natural Pigments
Mural Margen (joint Margin Mural) - México city.
2009
Individual Exhibition at MASC - Museu de Arte de Santa Catarina, Florianópolis
2008
Poem publication in the 6o Conto e Poesia book, of Sinergia, Florianópolis, SC
MASC - 'Collection Moments' Joint Exhibition
She took her Arts degree at UDESC - (Santa Catarina State University).
Fundação Edson Queiroz collection - Fortaleza University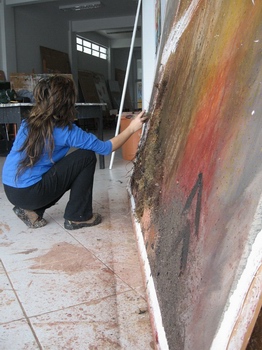 Sela painting Shen
2007
Triângulo Biennial Art Gallery (Uberlândia, Minas Gerais)
MASC collection: Mater's Chiao
Salão XIV Unifor Plástica 2007 Fortaleza - CE
MASC, Florianópolis: joint exhibition, painting and ceramics.
Artists Tiles Ceramics Project - Monterrey, México.
UTP Salão de Artes Visuais 2007 (2007 UTP Visual Arts Picture Gallery), Curitiba.
Fivars Galleries Catalog (Alicante, Spain)
III Bienal Internacional del Mosaico Contemporâneo - Buenos Aires, Argentina (Contemporary Moisaic International Biennial).
I Santa Catarina State Ceramic Art Festival
2006
Draw - Drawing II joint exhibition, London, England.
Under the Skin, international painting project, Bonn, Germany.
Sela and Shen
2005
Centro de Artes, UDESC - Winter Festival. Powder painting  (Ø 7 m).
Catalog of the 7th Elke Hering Contemporary Visual Arts, Blumenau Art Museum, Santa Catarina.
2001
ACAP, at the Galeria de Arte Meyer Filho, in the Legislative Assembly of Santa Catarina.
2000
Statement of Honor by the SBBA, Rio de Janeiro.
1998
II SACAP, Cambuquira, MG.